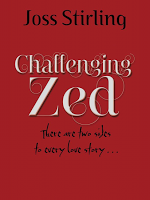 There are two sides to every love story.
For Valentine's Day, the author of the Benedict's Series, Joss Stirling, decided to release a free eBook from Zed's Point-of-View.
The eBook is from Zed's perspective when he first met Sky Bright, and the infamous football match when he realized that he had found his Soulfinder.
It is avaliable to download FREE from here!
Have you read it? What did you think?